The Farmers & Chefs restaurant and food trucks are growing some of their produce on the walls of a sophisticated shipping container.
By Lynn Freehill-Maye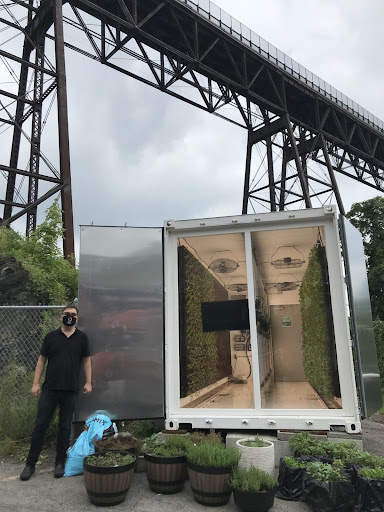 In the shadow of the Walkway Over the Hudson sits a plain white shipping container. It looks like overflow storage for the Poughkeepsie restaurant Farmers & Chefs.
When Farmers & Chefs owner John Lekic spreads open the doors, however, you can see lettuce, herbs, and other plants growing from floor to ceiling.
This is no junky storage unit — it's a farming tool that's among the first of its kind in the Hudson Valley. Israeli firm Vertical Field makes the agricultural setups. For Farmers & Chefs, it's become a further selling point for a restaurant Lekic has styled as locavore.
The 20-foot container is currently divided into four "fields" of what look like regular plastic gardening containers tipped over on their sides. Inside, the air is cooled and humidity-controlled, with irrigation lines along the walls, fans on the ceiling, and lights that run 16 hours per day.
"It's a lot of labor, it's a lot of work, but there is a reward there," Lekic says. "It's not just cheaper lettuce. With what I'm doing, I'm hoping to create a story."